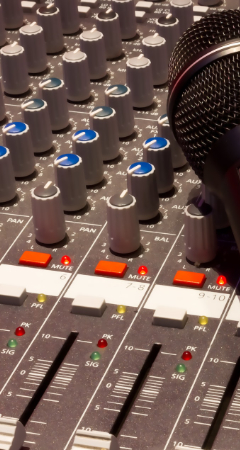 About SARA
Formed in 1992 and registered in 1995, the Johannesburg based South African Roadies Association (SARA) is a unique and dynamic non-profit training organization dedicated to the advancement and development of skills and knowledge amongst the youth in the technical and production sectors in South Africa and further afield. The association has spent the past 16 years enabling young skills and capacities in the lighting, sound, staging, power, rigging and AV sectors through both the SAQA accredited Skills Education and Training Authority (SETA) training courses it has run, as well as through its Entry Level On-The-Job Training Program. The program has been (and still remains) the main way that new blood has found its way into the professional ranks in the technical and production industry in South Africa, and beyond.
Technical and production skills and training initiatives conducted by the South African Roadies Association in South Africa and abroad have confirmed a high level of job creation being initiated amongst the ranks of trained personnel. Simply put a newly trained sound technician and/or engineer will have little difficulty in extrapolating the skill to service other requirements of a customer and hire ten others to deliver the job .
Since its inception, SARA has developed and forged long term international relationships resulting in hundreds of South African youth travelling overseas to gain valuable training, skills development and experience in the UK, Norway,Denmark, USA, Germany for on-the-job training, exhibitions & conferences and education. This approach has allowed SARA to develop from within its ranks, the capacity to train, moderate and assess technical and production skills across all the sectors. Throughout the South African industry, not only are many SARA trained personnel to be found in full time employment, but also significant number (some 30%) of those trained have gone on to start their own enterprises, creating jobs for themselves and others.
OBJECTIVES
Develop a sustainable capacity to train and develop technical and production skills;


Be accessible to all young South Africans with an interest in the technical and production sector;


Provide SAQA accredited training courses on an ongoing basis, as well as access to SARA'S Entry Level On-the-Job Training Program;


Initiate and maintain international relationships for education, training, equipment, standards and experience;


Implement the national agenda in respect of transformation, skills development and job creation;
PARTNERSHIPS
SARA has managed to create strategic links with the following international training and industry professional organisations:
Backstage Academy
www.backstage-academy.co.uk
National Skills Academy for Creative and Cultural Skills (NSA)
www.ccskills.org.uk
Production Services Associations (PSA)
www.psa.org.uk
Western Australia Academy of Performing Arts (WAAPA)
www.waapa.ecu.edu.au
The German Entertainment Technology Association (VPLT)
www.vplt.org
CAREER OPPORTUNITIES
Sound Technician
Lighting Technician
Audiovisual Technician
Video Technician
Stage Technician
Backline Technician
Monitor Engineer
Rigging Technician
Front of House (FOH) Engineer
Lighting Designer
Sound Designer, etc...
National Lotteries Commission support
The technical equipment purchased through the support of the National Lotteries Commission (NLC) will have an indelible impact on the lives, ambitions, dreams and careers of young South Africans for many many years hence.
The equipment will sustain training, skills development and on-the-job training in the technical and production skills sector for years to come.
National Lotteries Commission
LETPC A SARA Initiative for the Industry
Carl Golembeski talks about how he created the vocal effects software used by Beyoncé in her live performances.
Visit our Youtube Channel. LETPC Videos
DBSA and DSAC SARA Building Handover
Ceremonial Handover of the newly renovated and upgraded South African Roadies Association SARA House.
Testimonies
The Department of Education supports SARA and its activities and appreciates its contribution to educational transformation in our country.
We are very interested in taking forward this partnership to develop International Roadie qualifications by looking at the South African and UK standards & qualifications.
SARA members have once again exceeded our expectations. The initiative, enthusiasm & professionalism they possess is unparalleled.
Already providing training and career development at a level that would be the envy of any European or American technical industry, SARA plans to bring a cohort of its students for training at The Backstage Centre in 2014.
With our academy and it's pool of excellent teachers, speakers and professors, we should be able to support SARA regarding any of its educational needs.